4-Way Pipe Stands

Protect workers and the environment by using a
product that delivers the durability and construction
you expect from Dura Life® Containment Systems.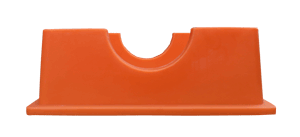 With the durable plastic construction, our 4 way
pipe stands will easily comply with grounding
and safety regulations. The orange LLPE material
is strong and won't deteriorate over time. The 4
way pipe stand is designed with a catch pan to
catch leaks from pipe connections including tees,
couplings, or cross connections.
Measurements:
Width: 26"
Length: 26"
Height 8.5"